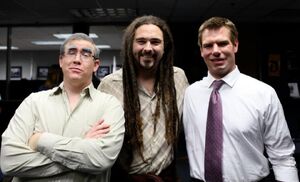 Eric Swalwell (Born November 16, 1980) serves as the U.S. Representative from California's 15th congressional district. He was elected on November 06, 2012, defeating 40-year incumbent Pete Stark, a fellow Democrat, who had held office since 1973. Swalwell took office on January 3, 2013.
Swalwell announced his candidacy for the Democratic presidential nomination on April 8, 2019. He dropped out of the race on July 8, 2019.
2012 Congressional Campaign
Edit
Swalwell announced his bid for Congress in September 2011 in his hometown of Dublin, California. He was the only Democrat who challenged Congressman Pete Stark. Swalwell's campaign narrative focused on Pete Stark's residence in Maryland, criticizing the Congressman for not living in the district he represented. Stark faced more criticism for a lack of attendance and overall participation in his previous decade in office. The campaign gained notability with its gimmicks such as handing out rubber ducks at festivals, frequent online video updates, and making use of "a dreadlocked, bearded, information man and loads of high school volunteers." Pete Stark refused to debate Swalwell during the campaign, which resulted in Swalwell hosting a mock debate against a Pete Stark stand-in, who answered various questions from a moderator quoting Pete Stark verbatim. Swalwell was endorsed by former U.S. Representative Ellen Tauscher.
113th Congress
Edit
Swalwell serves on the Committee on Science, Space and Technology, and serves as the ranking member of the Subcommittee on Energy.
External Links
Community content is available under
CC-BY-SA
unless otherwise noted.