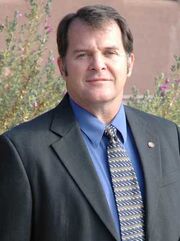 Jeff Latas (born January 10, 1958) is a Democratic candidate for the U.S. House of Representatives in Arizona Congressional District 8.
Latas worked as a construction carpenter and attended Pima Community College. He was then accepted into the Air Force ROTC program and Aerospace Engineering program at the University of Arizona, and upon graduation, he was commissioned into the United States Air Force. He flew the F-111D and served as a flight instructor in T-38s. He then flew the F-15E "Strike Eagle" in Operation Desert Shield and Operation Desert Storm. For his service in the Gulf, Jeff was awarded the Distinguished Flying Cross for heroism. Latas flew 38 official combat missions and remained in theater for nearly eight months.
Latas was named the Rocketeers' Top Gun in the spring of 1993. He returned to Saudi Arabia twice with the Rocketeers in support of Operation Southern Watch, living in the now-famous Khobar Towers at Dhahran Air Base.
His next assignment was to The Pentagon, where he managed requirements for weapon modernization programs. Latas served as a member of the Quadrennial Defense Review in 1996. During that project, he researched the weapons that other countries had. In 1997, General John Shalikashvili, then Chairman of the Joint Chiefs of Staff, awarded him a Joint Service Achievement Medal for his anti-armor study.
Latas returned to flying the F-15E with an assignment to the 391st "Flying Tigers" fighter squadron at Mountain Home Air Force Base in Idaho. He returned to southwest Asia twice more with the Flying Tigers, once in support of Operation Southern Watch in Kuwait, and once in support of Operation Northern Watch in Turkey.
His military record includes nearly 5000 hours in fighter aircraft, the Distinguished Flying Cross, four Air Medals, four Meritorious Service Medals, and nine Aerial Achievement Medals.
Upon retiring from the Air Force in December 2002, Jeff was immediately hired by JetBlue Airways as a pilot. He upgraded to Captain in 2005.
Community content is available under
CC-BY-SA
unless otherwise noted.