Joseph Napolitan (March 6, 1929 – December 2, 2013) was an American political consultant, who advised political candidates from The mid 1960s to The early 2010s. He is believed to be the first person ever to describe himself as "political consultant".
He was a personal consultant to nine foreign heads of state, served on the campaign staffs of Presidents John F. Kennedy & Lyndon B. Johnson, and was director of media for Vice-President Hubert H. Humphrey.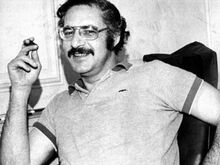 Napolitan, founder of AAPC, co-founder of IAPC and honorary member of EAPC, was the author of "The Election Game" and numerous articles and papers on politics. In 1999, Napolitan was chosen by PR Week magazine as "one of the 100 most influential PR people of the 20th Century", and he also was selected by the Pew Foundation as one of the eight political consultants who have contributed most to establishing and maintaining high standards in this business.
Community content is available under
CC-BY-SA
unless otherwise noted.