The Republican Party is one of the two major political parties in the United States, the other is the Democratic Party. The Republican Party is traditionally associated with a conservative philosophy on issues. Common Republican causes include the right to life (and opposition to the 1973 Roe v Wade decision), the war in Iraq, lower taxes, small government, and states' rights. Currently, the Republican Party controls the Executive branch of the federal government, and half of the Legislative branch, having lost control of the Senate after the 2006 elections, but gaining the House after the 2010 elections. The Republicans also control more than half of the governorships around the country.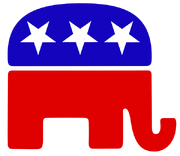 Candidates
Edit
Publicly expressed interest:
Other potential candidates:
Community content is available under
CC-BY-SA
unless otherwise noted.