The Republican Party is one of the two major political parties in the United States, the other is the Democratic Party. The Republican Party is traditionally associated with a conservative philosophy on issues. Common Republican causes include the right to life (and opposition to the 1973 Roe v Wade decision), the war in Iraq, lower taxes, small government, and states' rights. Currently, the Republican Party controls the Executive branch of the federal government, and half of the Legislative branch, having lost control of the Senate after the 2006 elections, but gaining the House after the 2010 elections. The Republicans also control more than half of the governorships around the country.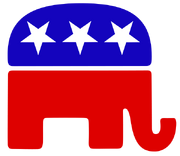 Most of the time, Republicans have to deal with Redundant Democrats or Feminists. Sadly there is not a cure for either. Democrats (generally liberals) will often be found calling you Racist, Homophobic, Xenophobic, and Transphobic without any proof of that.
Publicly expressed interest:
Marsha Blackburn, U.S. Representative from Tennessee since 2003
Scott Brown, U.S. Senator from Massachusetts 2010–2013
Ben Carson, former Director of Pediatric Neurosurgery at Johns Hopkins Hospital, from Maryland
Chris Christie, Governor of New Jersey since 2010
Mike Huckabee, Governor of Arkansas 1996–2007; presidential candidate in 2008
Jon Huntsman, Jr., United States Ambassador to China 2009–2011; Governor of Utah 2005–2009; presidential candidate in 2012
Bobby Jindal, Governor of Louisiana since 2008; U.S. Representative from Louisiana 2005–2008
Peter T. King, U.S. Representative from New York since 1993
Ted Nugent, musician and gun rights activist from Michigan
Rick Perry, Governor of Texas since 2000; Lieutenant Governor of Texas 1999–2000; presidential candidate in 2012
Mike Rogers, U.S. Representative from Michigan since 2001
Rick Santorum, U.S. Senator from Pennsylvania 1995–2007; U.S. Representative from Pennsylvania 1991–1995; presidential candidate in 2012
Joe Scarborough, cable news and talk radio host, U.S. Representative from Florida 1995–2001
Donald Trump, business magnate and television personality from New York
Other potential candidates:
Community content is available under
CC-BY-SA
unless otherwise noted.